The Exelon STEM Academy Goes Online to Reach Students at Home
---
School closings across the country are dramatically disrupting the plans of young women exploring science, technology, engineering and math education, so the Exelon Foundation STEM Innovation Leadership Academy is stepping in to help. The academy team is curating and delivering weekly digital resources for more than 1,500 previous participants and applicants of the annual program in Chicago, Philadelphia, Washington, D.C., and Maryland.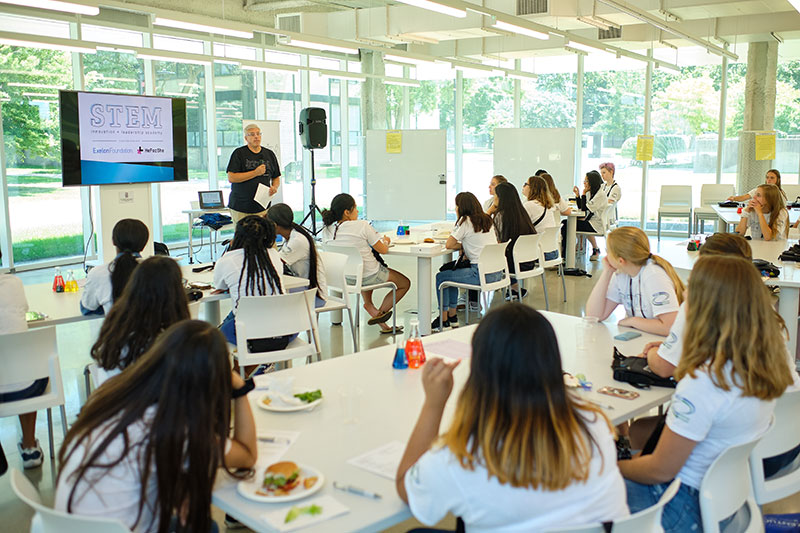 Normally, the free, weeklong Exelon STEM Academy creates an in-person opportunity for young women to pursue STEM in fun, interactive ways. Now that's ramping up to a weekly digital touchpoint, boosted by webinars that speak to the curiosity and ambitions of participants. 
"We feel passionate about whatever we can do to help these young women to seek opportunity and step into it," said Justine Jentes, community engagement manager for Exelon. Jentes and her program coordinators know personally the impact that COVID-19 closures are having on students and their parents who have been plunged into an unfamiliar juggling act of working and homeschooling. What began as trading resources among her team quickly became a lightbulb moment when they saw the number of in-person STEM events being canceled. 
A Graduate Gives Back 
One young woman aiding the effort is Emma Mendez, a freshman at the University of Michigan and graduate of the Chicago STEM Academy. Earlier this month, she lead a webinar for a STEM Academy audience focusing on what they may want to look for in a college. "During this time when we're all moving to classes online, you're losing a lot of connection," said Mendez, who is studying chemistry and Spanish on the pre-med track. "By doing this, I'll be able to connect with the girls. A lot of them right now are really worried. 'What am I going to do now that I'm online only? How am I supposed to think about college?'"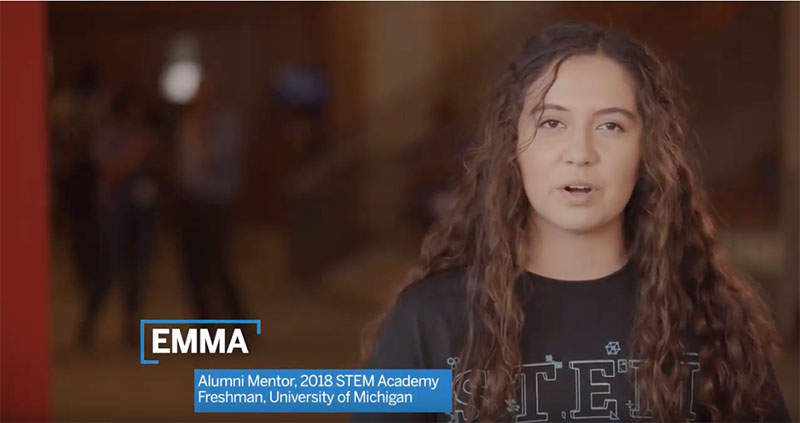 In between her own online classes, Mendez lead the webinar and shared her experiences at Michigan and at the Exelon STEM Academy, where she also served as a junior staffer. "The STEM Academy is such an amazing opportunity that I think every young woman should take. It has helped me so much in looking at my career, picking my school, it influenced me to take certain classes, and join clubs. The more women who are aware of how awesome the STEM Academy is, the better." 
If young women in high school are interested in joining our email list they can send a message to CorporateRelations@exeloncorp.com.
---