#PoweringThruTogether
---
How a Partnership Unboxing Lifesaving Equipment Protected Utility Workers, Customers
On an ordinary day, opening a box at a warehouse and removing its contents wouldn't draw much attention. But these aren't ordinary days, and a collaboration between employees at ComEd, an Exelon company in Illinois, highlights how new partnerships are helping keep employees, customers, and communities safe as we continue providing customers reliable energy during the pandemic.
Typically, all pallets of equipment coming to the ComEd supply warehouse are unwrapped and unpacked with routine safety standards by supply operations employees. Now, the pallets, wrapping, and boxes must also be thoroughly sanitized to prevent the possible spread of the COVID-19 virus. For a warehouse that recently had pallet after pallet arriving with hundreds of boxes, the now time-consuming task would have been insurmountable for supply operations employees alone. 
Adding to the urgency was what was inside: gear needed to help protect ComEd crews who must go into the field to restore power outages, keep the lights on and ensure safe and reliable electricity service for hospitals and health care facilities; federal, state and local response centers; and millions of homes and essential businesses. The gear includes rubber gloves, disposable coveralls, shoecovers, and face shields.
Enter their newest colleagues – ComEd construction workers training to work on transmission lines. Donning necessary protective gear and staying at least six feet apart, these ComEd construction workers joined their supply colleagues at the warehouse and for the first time, tackled this new, laborious challenge together, working in two shifts, wiping down boxes to sanitize them and ready the vital equipment inside for distribution. 
"We were able to really speed the process up and get everything where it needed to go over the weekend," said Matt Tassone, director of supply operations distribution for ComEd. It wasn't just about getting the job done for the newly assembled team, Tassone said, it was the added pride of knowing how important their work was. 
"Obviously everyone's thinking about their families, their personal health and they have family and friends and their kids on their mind," Tassone said. "Because of the coronavirus, they knew they had a greater role and responsibility contributing to the core mission of keeping our employees safe during trying times. They did a really good job staying focused on that task."
Exelon and ComEd employees are keeping the lights on when customers need us most, he added. "It speaks volumes in terms of everybody's commitment to working together and getting the job done." 
For more about how the Exelon family of companies is #PoweringThruTogether, follow us on Twitter, Facebook and LinkedIn. You can also read more about our work on Exelon's blog, The Grid and ComEd's blog, Powering Lives Network.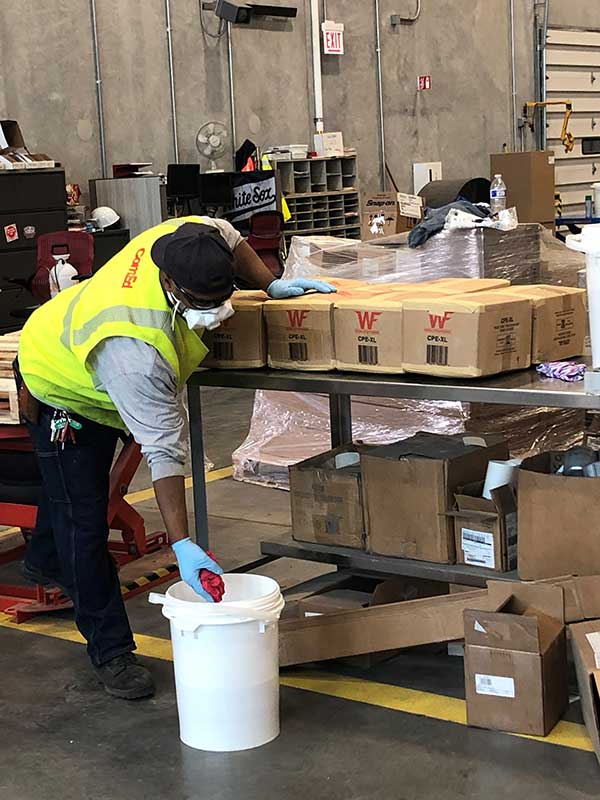 ComEd's Patrick English sanitizes boxes containing lifesaving protective equipment bound for employees providing critical utility work for customers. (Photo by Matt Tassone/Exelon)
---