Building Relationships Through STEM Mentorship
---
The Exelon Foundation STEM Leadership Academy creates opportunities throughout the year for young women to pursue STEM in fun, interactive ways including a STEMinist e-newsletter, monthly mentoring sessions, bi-weekly online hands-on STEM activities (led by program alumnae), Career Chats with our employees and other experts in STEM fields, professional development sessions (interviewing etiquette, LinkedIn profiles, etc) and social gatherings.  In the summer, there are free, week-long programs on college campuses in Exelon's key markets of Baltimore/District of Columbia, Chicago and Philadelphia with a focus on the energy business.  Given this year's unique environment, all events became virtual.
Grace Barrera, a rising high school senior in Chicago, participated in the Summer 2020 Academy along with Stacia Konow, a 2019 Academy alum who was hired as a mentor for the 2020 program. Even in the Zoom environment, these two were able to connect and build their relationship through mentorship.

Let's learn more about this pair of STEM-empowered young women through some Q&A!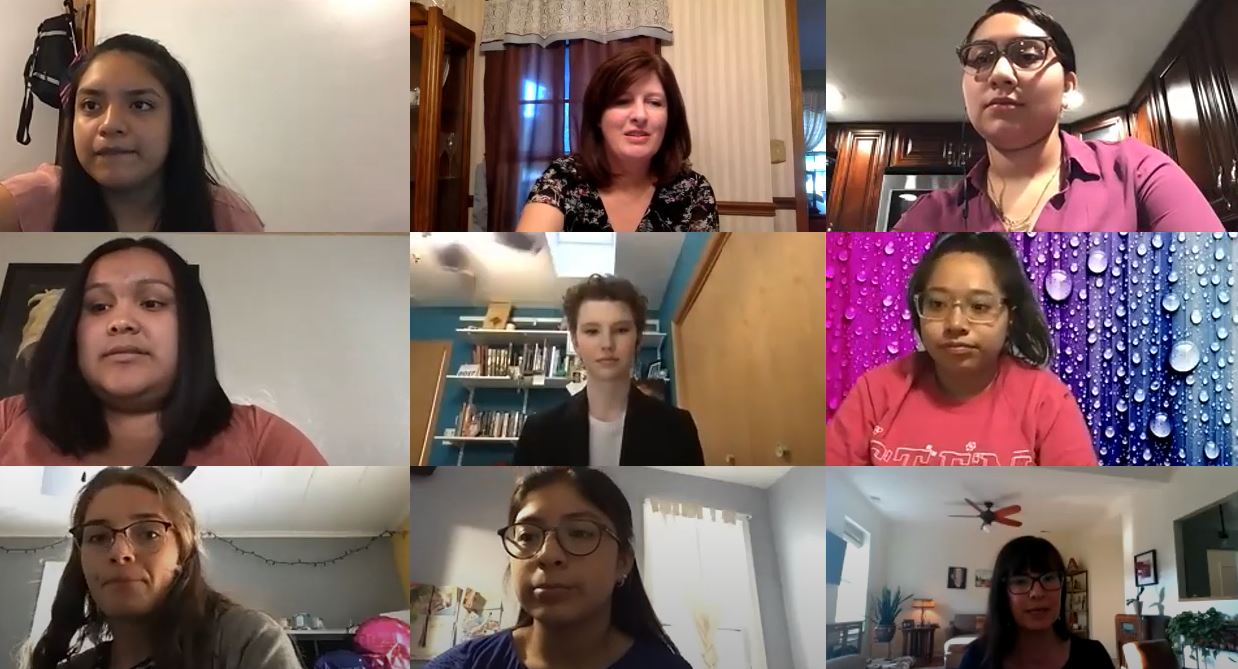 STACIA KONOW, MENTOR

How was your experience as a STEM academy student? And what was it about the experience that made you want to come back as a mentor?
I loved being a STEM academy student. Working with other girls passionate about STEM and environmental conservation on a college campus was a very fun and informative experience. I wanted to come back to the academy because I loved working on the challenge project and networking with professional female scientists last summer, and I was very excited to have those opportunities again as well as help other girls have that experience. 

Did you have a mentor when you were a student? What did you learn from her? What have you added to your own method of mentorship that you did not experience from your own mentor (if any)?

I interacted with a few different mentors during my week at the Academy. I learned a lot about applying for colleges and various internships and how to use different platforms for app mockups and 3D models. Since the 2020 Academy was structured differently than the in-person academy I attended as a student, I couldn't bounce around from group to group as my mentors did. However, that gave me the opportunity to learn more about the girls in my group instead of knowing many students just on a surface level. I wanted to create a connection between myself and the students that could continue to grow outside of the Academy.

How do you think your mentor helped you in your path and what do you hope to help Grace achieve?
In hindsight, what would you say you took away from the academy? And how is that affecting your decisions related to your education and career?

I learned a lot about advocating for myself in a professional setting from the Academy. I think a lot of women, myself included, hesitate to ask for things like referrals or recommendation letters from their teachers or bosses because many people are so quick to label women as "pushy" or "hard to work with" as opposed to "ambitious" or "confident". However, it is very important to advocate for yourself and make sure your ideas are heard in a professional setting in order to advance in your career. I learned how to write an elevator pitch, build my resume, and use social media to network from the Academy, all of which I know will be important as I pursue a research position in college and later on in my professional life. The Academy did not necessarily change what I wanted to pursue (I knew going in that I wanted to be a neuroscientist), but it did provide me with many tools to use to achieve my goals.

GRACE BARRERA, MENTEE 

How did you hear about the STEM Leadership Academy and why did you decide to participate in it?
Throughout high school, I have been involved in many STEM-based programs that allowed me to be exposed to the different fields of STEM. This past year I was involved in some Exelon Foundation STEM activities which is how I had heard about the summer Academy. I decided to participate in the Academy because the program would give me the opportunity to meet people that are involved in the STEM fields.

Tell us about your interaction with your mentor, Stacia. How would you say her mentorship has helped you complete the academy?
When I first met Stacia she was going to be our student mentor for the week and would be there to guide me throughout the activities. Since she had done the program before she was very helpful. Stacia's mentorship allowed me and the group to create a good project design. 

What have you learned from this academy and how do you think it will influence your decision-making in your future STEM-related education and eventually your career?
What did you learn from the sessions with women who are current leaders in the fields of STEM and how do you think this knowledge can guide you in your education and career path?

During the STEM Academy we have the opportunity to meet some incredible women that are involved in STEM fields. One main takeaway for me, is learning that the women took many different paths to get into their career. In STEM there are always ways to innovate and get involved in many different projects with your area of study. When I enter college, I now realize that I might want to enter a specific field but remember that I should go out and experience other fields of the STEM – I can always change my major.
Young women in high school who are interested in joining our email list can send a message to CorporateRelations@exeloncorp.com.
---