The 2022 Powering Communities Employee Volunteer Award Winners
---
For many, volunteering is a fulfilling way to give back to the communities where we live and work.  With more volunteers being able to give back in person this year, Exelon is thrilled to present the 2022 Powering Communities Employee Volunteer Award winners. These 20 employees went above and beyond in serving their respective communities as well as displaying commitment to Exelon and our mission to better the communities we serve.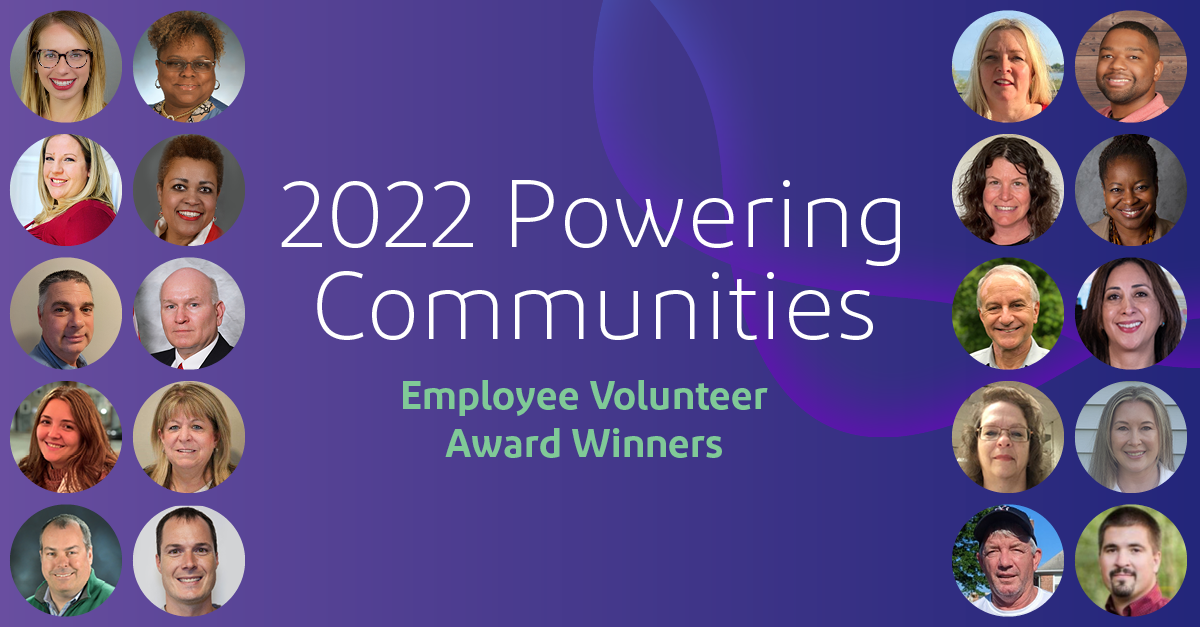 From helping the Baltimore Foster system by providing foster parents with the resources they need to empowering the Latinx  community by helping them find their cultural identity , our  team is powering a cleaner and brighter future. The Exelon Foundation is advancing their efforts by awarding $5,000 grants to the awardees' nonprofit organizations. Meet our winners and learn more about their causes.
MERIT AWARD – $5,000 AWARD TO VOLUNTEER'S CHARITY

Bill Blevins, Jr., Baltimore City Resource Parents Association – Baltimore, Maryland
Bill Blevins and his family know the rewards and heartbreak of raising foster children. Caring for a child, loving them as their own and letting him or her go is one of the hardest things his family has done – again and again. But Bill and his wife wanted to teach their children the character-building act of perseverance, of fixing a problem instead of walking away. That's why Bill has volunteered since 2020 with Baltimore City Resource Parents Association, an organization of parents who volunteer their time and vow to make a difference by providing loving homes. Currently the acting President, Bill helps with popular events such as the Christmas Shoebox Gift Drive and Pixel Perfect Photo Day for foster children. His fellow volunteers say he is an incredibly thoughtful and dedicated leader whose perseverance and tenacity for change have pushed the organization to do more than it ever has.
Carlton Bradshaw, Asbury Service Project – Salisbury, Maryland
When Carlton Bradshaw's ninth-grade son returned from a mission trip with the Appalachia Service Project, his first words were, "Dad, you have to do this with me!" For the past 14 years, Carlton has helped prepare high schoolers to travel to impoverished areas of West Virginia, Kentucky, Tennessee and Virginia and perform home repairs for needy families one week each year. As a leader of the Asbury Service Project in southeastern Maryland, he helps raise money and prepare youth and adults for the annual trip through formal training sessions and local service. That includes providing one dinner each month at a homeless shelter and partnering with the Chesapeake Housing Mission to construct wheelchair ramps for families in need, including elderly and disabled patients who otherwise wouldn't be able to return home from a hospital or rehabilitation center. Carlton has been cited as a skilled craftsman, teacher, spiritual leader, and mentor.


Sabrina Brooks, African American Museum in Philadelphia – Philadelphia, Pennsylvania
As a young public school student, Sabrina Brooks loved visiting the African American Museum in Philadelphia on class trips, immersing herself in Black culture. She couldn't have known then that in 2014 she would join the museum's Board of Directors. Due to her love of the arts, she was drawn to AAMP's mission of bringing diverse communities together in greater appreciation of the Black experience through the combined narrative of art, culture and historical witness. Sabrina has since led the board's Marketing Committee and Strategic Planning Committee and has served as Vice Chair of the board. Currently she is the Chair of the Board of Directors. Two months into her term, the museum's president and CEO left the organization. Sabrina formed a Search Committee and stepped into a temporary management function of the institution, increasing her volunteer hours by more than 400%. The staff lauds her strong leadership skills, foresight and sound judgment.

Amber Burruezo, United Way of Gloucester County – Thorofare, New Jersey
Amber Burruezo's volunteer journey with the United Way began when she realized that as a young child, her family received assistance from non-profit organizations funded by the United Way. She has spent the past decade paying it forward through the United Way of Gloucester County in southern New Jersey. As 2021-23 campaign chair, she drives the fundraising that fills food bank shelves, ensures children have backpacks, and provides autistic students with tools to succeed. She serves on the Board of Directors, Campaign Cabinet and has launched a new Integrated Communications Resource Committee to develop innovative fundraising communications strategies. After Hurricane Ida devastated South Jersey, Amber supported the creation of a recovery fund that generated over $100,000 for recovery efforts. Her colleagues say she has strengthened the organization's messaging and outreach efforts, leveraging her skills in public relations and communications to help others. 
Mark D'Agostino, Pan-Mass Challenge – Needham, Massachusetts
It started 20 years ago, when Mark D'Agostino's sister-in-law died from pancreatic cancer. Since then, Mark has participated in the annual Pan-Mass Challenge bicycle ride, which since 1980 has raised $831 million for cancer research and patient care at Dana Farber Cancer Institute in Boston. Along the way, a policeman shared with Mark the story of his 6-year-old son who was battling leukemia; a young boy who held a thank-you sign along the route for 11 years before joining the ride; and a woman at an ice cream shop who shared a hug upon returning from her first chemo treatment. During his first ride, Mark pedaled alongside an 18-year event veteran who had terminal cancer but still wanted to help others. Each year, Mark rides with several team members who are battling cancer. Mark has raised $120,778 so far, annually riding 192 miles over two days as well as volunteering the day before loading support/medical vans.
Sulma Dalessio, Taller Puertorriqueno – Philadelphia, Pennsylvania
As a Board member with Taller Puertorriqueno since 2019, Sulma Dalessio has seen the important role art plays in providing an opportunity for people to work together, to communicate and to express their cultural identity through a common lens. Taller is a community-based cultural organization in Philadelphia that preserves, develops and promotes Puerto Rican arts and culture, providing equal access to arts and culture by serving the poorest community in the poorest zip code in the poorest U.S. large city. Now in its 48th year, Taller has become known as "El Corazon Cultural del Barrio" – the Cultural Heart of Latinx Philadelphia. Sulma actively participates in developing organizational policies, fundraising and hiring the new Executive Director/CEO. She has served on the Board's Fundraising and Membership committees and recently was unanimously elected Treasurer. Her colleagues say she is a strong communicator and critical thinker who has emerged as a leader among peers.
Jan Foth, Women's Auxiliary of Delaware Hospital for the Chronically Ill – Smyrna, Delaware
Jan Foth believes that no matter how small a gesture may seem, it can make a big difference to someone. That's a lesson she learned after losing an adult son, without warning, to suicide in July 2014. On her path of grief recovery and growth she learned about the importance of mental health and how empowering simple human interaction can be.  This led Jan to the Delaware Hospital for the Chronically Ill, the state-run nursing home in northern Delaware, where she partners with the Women's Auxiliary thorough volunteer events  at Exelon. Since December 2020, Jan has managed a card marking event to provide greeting cards each month to DHCI's 95 residents. Her role requires setting up and hosting teams' meetings each month, coordinating volunteers, collecting cards, gifts and donated items, and delivering them to residents. The card events remind the residents each month that they are not forgotten, and that someone cares. 
Tanya Fowler, Funds 4 Firefighters – Elwood, New Jersey
Thanks to Tanya Fowler, volunteer firefighters across the country have been able to focus on their core mission – serving their communities and keeping them safe – instead of fundraising for the critical services they provide. Tanya and her husband co-founded Fund 4 Firefighters in 2015. The organization's mission is to raise funds for volunteer fire/rescue companies across the United States to be used for training, equipment, facility upgrades or any combinations thereof. F4F's has raised more than $38,000 since its founding in 2015.  The "343" in its logo represents and pays honor to the 343 firefighters who gave their lives on Sept. 11, 2001. As an Asian American woman, Tanya volunteers in an industry that historically has been dominated by men. From her efforts alone, last year Tanya was able to provide over $10,000 in donations to volunteer fire/rescue companies across the country. Her colleagues say her leadership defines F4F's goal.
Kandy Helson, WATERshed Program of Southeast Wisconsin – Racine, Wisconsin
Kandy Helson was struggling with a way to teach fourth graders about the water cycle. Using an existing song, she taught the students a dance to go with it. The children loved the approach and demonstrated their understanding. That's just one of the creative ways Kandy has served the WATERshed Program of Southeast Wisconsin, which promotes conservation of natural resources through education and preservation in Lake Michigan's coastal communities. The organization seeks to educate students from Kenosha and Racine about the importance of keeping Lake Michigan and natural areas healthy. Since its inception in 2008, WATERshed has served more than 30,000 students. Now volunteering as vice president of the Board of Directors, Kandy researches grant opportunities, writes policies and procedures, and helps with fundraising, marketing, the website and social media. For the past 13 years, she has assisted in-class learning, teacher trainings, student field work, curriculum development and equipment upkeep.
Peter Higbee, Absecon Social and Athletic Club – Absecon, New Jersey
For Pete Higbee, it's all about ensuring children have a place to play. For almost 35 years, he has coached generations of children as a volunteer with the Absecon Social and Athletic Club in southeastern New Jersey. Although his own children are now grown, he continues to run ASAC's basketball program, scheduling games and practices as commissioner every November through March and contributing countless hours each week. Part of his role includes running the highly anticipated annual basketball tournament, the largest in the area and ASAC's biggest fundraiser each year. Without the tournament, ASAC simply wouldn't be as viable as it is. His colleagues say Pete – the 2014 Absecon Citizen of the Year – is a tireless worker who inspires other adults to volunteer by his example, even after their children have grown and left the program. They also attribute recent increases in the number of teenage volunteers to Pete's leadership.

Amanda Janaskie, Harford County Education Foundation – Bel Air, Maryland

In her early school years, Amanda Janaskie hated math and science. Despite her mother's nightly use of flashcards, it became clear Amanda learned differently.  But back then, students were rarely taught to think creatively about solving math problems. Now, as a Board member for the Harford County Education Foundation in northeastern Maryland, Amanda supports teachers who help children learn through a variety of innovative methods. The Education Foundation removes barriers to learning and empowers every child – with an emphasis on the underserved. In 2021, the Education Foundation provided over $94,000 in direct support of enrichment and innovative programs, such as Classroom Innovation Grants, with Amanda serving on the Programs Committee.  The programs provide students with equitable academic experiences, such as the Take Home Math Manipulative Kits, giving students critical tools needed to complete assignments at home. Amanda has helped to define strategic communication and marketing plans, led a summer intern, and recruited volunteer support for fundraisers. Her colleagues praise her energy, innovation, dedication, and passion.  
Brittany Joncus, West Suburban Humane Society – Downers Grove, Illinois
Three years ago, Brittany Joncus' husband was living four hours away. Able to see him only on weekends, she sought a way to fill her extra time. That's when she started volunteering at West Suburban Humane Society, west of Chicago, a no-kill rescue that cares for and matches over 500 dogs and cats with loving homes each year. Brittany now regularly volunteers for two shifts – one with dogs and one with cats – as she builds trust and bonding so the animals can be great additions to their future "forever families." She also covers holiday shifts for other volunteers and provides volunteer training. Her colleagues say she is extremely patient with shy and older cats and dogs. As Brittany says, "There's no greater feeling than an animal that was very shy and reserved coming to the shelter (that) comes out of their shell and gets adopted by an amazing family."
Stacy Jordan, Providence St. John Baptist Church – Upper Marlboro, Maryland

Leading her church's outreach ministry allows Stacy Jordan to plant seeds – both literally and figuratively. She meets people from virtually all walks of life, enabling her to make friends and grow new relationships. At Providence St. John Baptist Church in central Maryland, Stacy started a community garden. The church has incorporated a STEM program that teaches students and other local volunteers how to start and maintain an organic garden, along with an understanding of the health benefits of organically growing produce. The garden's crops are distributed at the Marlboro Food Bank. For the past nine years, Stacy also has led outreach ministry events such as Community Movie Night, COVID Testing, Trunk or Treat, Harvest Festival, Community Shred Event, Thanksgiving Basket Giveaway, a free gas giveaway, and Christmas outreach to families in need. The ministry's goal is to reach the community through programs and initiatives that address areas of need for families and small businesses. 
Christopher Kennedy, Family Association of Northfield – Northfield, New Jersey
When Chris Kennedy attends events in his hometown of Northfield, New Jersey, he often hears youngsters call to him: "Hi, Coach Kennedy!" It's just one way he knows he's positively impacted lives. For the past eight years, Chris has coached and performed myriad other duties for the Family Association of Northfield. Currently an assistant coach for the varsity football and basketball teams, his most important role is as a mentor and friend to the first- through eighth-graders he's coached. FAN is a non-profit organization dedicated to the betterment of youth sports programs – including football, basketball and cheer – for over 500 kids. Chris has cleaned up fields, repurposed an equipment shed, run the game clock and scoreboard, lined fields, revamped audio-visual equipment, hosted special events, organized a parade and remodeled the snack bar, where he's flipped burgers. He is known for his generosity and kindness while serving as a role model.
Katie Law, Compass Pro Bono Philadelphia – Philadelphia, Pennsylvania
For the past four years, Katie Law has volunteered with Compass Pro Bono Philadelphia, which has connected more than 800 business professionals to nonprofits through its capacity-building strategic consulting projects, board matching and education programs. Compass volunteers serve more than 122 nonprofits, helping them in their work to serve at-risk youth, homelessness, healthcare access, violence prevention, veteran and senior citizens supports and more.  Katie most recently served as project leader for The Rock School of Dance Education, which fosters physical, social and emotional health through dance education and community outreach to youth. She also has worked with Commonwealth Youth Choirs, Pennsylvania SPCA and the PYO Music Institute, helping them sharpen strategies, strengthen finances, and scale their reach. Her work with PWO Music Institute led Katie to join the board, thus increasing her impact on this organization which uses music education to inspire character, discipline, and community service to a diverse student population.
Jeffrey Miles, American Heart Association of Delaware – Newark, Delaware

As a parent, Jeff Miles knows how important it is to educate youth about preventing heart attacks and strokes. That's why he has been volunteering with the American Heart Association of Delaware for the past seven years, starting as a Heart Walk participant and becoming increasingly involved each year. Now serving on the Board of Directors, Jeff is Delmarva's lead for the annual Heart Walk. He organizes team leads from various departments, coordinates a DPL Gas team to raise money, and recruits volunteers for the day of the event. Typically, those efforts result in about 100 volunteer walkers and donations of $15,000, usually making Delmarva Power the second-largest corporate sponsor. He also has joined the Executives with Heart Challenge, personally raising over $3,000 for the Heart Walk each year. And he has served on the Go Red for Women Advisory Board and currently serves on the Board of Directors. Jeff's colleagues cite his community leadership and passion for the cause.
Mary Moss,The Transformation Center – Baltimore, Maryland
Stories like Angie's are why Mary Moss is a committed volunteer at The Transformation Center in Baltimore, providing clothing to 25,000 of the city's most vulnerable populations each year. Two years ago, Angie was battling substance abuse issues. Today, Angie has made a complete turnaround. She's now employed and volunteers at the Center. She also received an anonymous gift for dental work which will impact her life forever. Mary feels blessed to have been a part in Angie's journey.  Mary has served the Center since it opened in 2015. She and her family carefully sort through donations and assemble matching outfits for distribution to about 150 households every Saturday. "It gives me a lot of pleasure to hand out clothes and then a week later see our guests with the outfit on," she said. The Center's staff says that Mary takes initiative and leads other volunteers with determination.
Ryan Slater, Christian Stronghold Church – Philadelphia, Pennsylvania
Ryan Slater finds few experiences more rewarding than seeing a struggling student master an academic subject. As a tutor, he celebrates students' newfound confidence in learning something new. For the past five years, Ryan has served the Educational Services Ministry at Christian Stronghold Church. Currently serving as the Ministry's director, Ryan recruits new students and tutors, supervises seven tutors, and promotes techniques to help students.  The program's mission is to support and enhance the long-term livelihood of West Philadelphia through programs that transform lives. On Tuesday and Thursday evenings, Ryan tutors inner-city second-graders through high school seniors, and adults, in math and literacy. One student came to the Educational Services Ministry needing tutoring in sixth-grade math. After working with Ryan and other ministry tutors for two hours a week for four months, the student brought his grade up from a failing grade to a C average. Now a ninth-grader, the student has an A in algebra.
Davita White, Victory Apostolic Church – Chicago, Illinois

The sun was shining last year when Davita White visited a young woman who had just found an apartment and employment after living with relatives for a year. But the warmth Davita felt after sharing gifts, prayers and encouragement wasn't from the sun. It was from the young woman's smiles and joyful gratitude, filling Davita's heart and inspiring her soul. Since 2010, Davita has volunteered with the Women of Victory Empowerment Network at Victory Apostolic Church in Matteson, IL. The church's outreach ministry provides spiritual, moral and financial support to the poor, visits the sick and brings the Gospel to those in prison and in the community. Victory has held food giveaways, hosted COVID testing, led voter registration, donated school supplies, supported families affected by fires and fed first responders. Davita has touched lives, inspiring the church's youth to volunteer and its women's ministry to increase its giving.
James Woznicki, Little Creek Volunteer Fire Company – Little Creek, Delaware

For James Woznicki, serving as a volunteer firefighter for 50 years has provided a sense of accomplishment and pride by being part of a team and giving back to the community. He finds purpose in making a difference as a third-year member of the Little Creek Volunteer Fire Company in east central Delaware. The company has over 66 active firefighters who in 2021 responded to 510 emergencies. Currently serving six nights a week on the 12-hour overnight shift, James is a driver of the first responding engine and ensures that everyone on the squad arrives safely. In the last year, he has served over 4,000 hours of standby duty time while responding to fire, EMS and rescue emergencies. He also teaches fellow volunteers what he has learned over the years, bolstering their leadership and incident response skills. His colleagues compliment his steadfast dedication, caring attitude and attention to detail.


In 17 years, this awards program has recognized more than 290 employee volunteers and contributed more than $2 million to nonprofit partners.
---