Exelon Partner to Engage Young Women in STEM
---
This story was first published by the Pritzker School of Molecular Engineering. 

"Choice" was the theme of a recent virtual event focused on encouraging high school girls to continue to choose STEM (science, technology, engineering, and math) studies. The event was a partnership between the Pritzker School of Molecular Engineering (PME) at the University of Chicago and the Exelon Foundation.
The 90-minute event brought together young women from Illinois, Maryland, North Carolina, and Pennsylvania who are interested in STEM and involved in Exelon's STEM Leadership Academy.
Organized by Roell Schmidt, managing/producing director for STAGE (Scientists, Technologists and Artists Generating Exploration) and Laura Rico-Beck, educational training and outreach coordinator at Pritzker Molecular Engineering, the event included a warmup activity, a Junior Science Café, and a question-and-answer time with an expert panel.
"We combined our Junior Science Café—a 30-minute session that engages students with STEM using personal stories and hands-on activities—with an opportunity for students to have a panel discussion with women researchers in all stages of their careers, from those in undergraduate school all the way to faculty members," Rico-Beck said.
The event also explored the intersection of science and art in STEM careers.
"We tend to think of creativity as just for artistic pursuits, and yet creative and imaginative thinking is absolutely required in science, technology and engineering," Schmidt said. "We're not going to find the most innovative solution if we aren't creative and imaginative thinkers."
Dancing to the stars


A warmup activity kicked off the workshop. Using inspiration from Mae Jemison, a Chicago native, avid dancer, engineer, physician, and the first African American female astronaut, Schmidt led the women through a movement routine to get them out of their desk chairs and dancing.
"We opened with some dance warmups because we get so stuck in our chairs that our ability to think outside the 'Zoom box' can be a little hard," she said.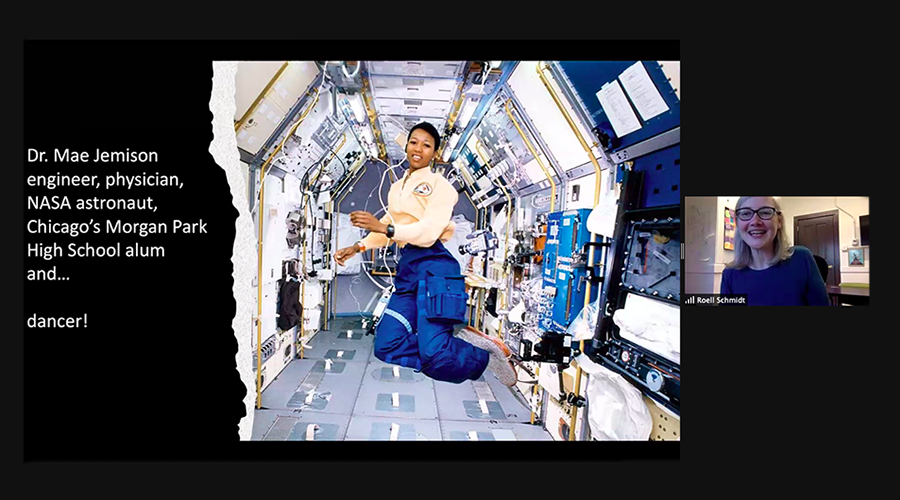 Schmidt picked Dr. Jemison because of her love for both science and dance. When Jemison was considering her career path, she ultimately chose science, becoming a medical doctor and astronaut—but she still maintained her affinity for dance and choreography, Schmidt said.
"Here's someone who chose to enter the STEM field instead of becoming a professional dancer and choreographer, but she didn't stop dancing," she said. "And she achieved all these amazing things in her life and has gone on to inspire so many more."
Playing with light


Graduate student Elena Glen led the second portion of the workshop—the Junior Science Café. Typically held at a museum or in a classroom-type setting, the Junior Science Café is a hands-on learning experience that graduate students develop for middle- and high-school students with the idea of transferring their research work to content that is relevant and engaging to young people.
Because the Junior Science Café was held virtually, Elena discussed her own research in the Awschalom Group and demonstrated how light travels through various mediums.
"Using a laser pointer, I showed how light travels through water and air, and what the differences are," she said. "Then I also showed how light travels through fiber optics."
As a graduate student working with young women, she said she wants to show students that there's a place for everyone in science—that they can choose to be a scientist no matter who they are.
"We want to welcome more diversity into science, to show students what a scientist looks like, and dispel the idea that a scientist is a 'stuffy white male,'" she said. "Science is fun, and science is for everyone."

"Creative and imaginative thinking is absolutely required in science, technology and engineering." - Roell Schmidt, managing/producing director for STAGE

One of the students found Elena's research intriguing, commenting in her post-event survey, "My favorite part of the event was Elena's presentation," she said. "I had never heard of that kind of research before and definitely want to learn more about it."
Building relationships


The Q&A portion of the workshop allowed students to ask women scientists how each of them made choices that led them to where they are today. Panelists included Allison Squires, Neubauer Family Assistant Professor of Molecular Engineering; Glen; Andrea Bryant, astrophysics graduate student; Aziza Suleymanzade, physics graduate student; and two undergrads, Isa Kucera of the Tirrell Lab and Ananya Chakravarti of the de Pablo Group.
"The panelists shared the idea that it's not as simple as, 'I've decided to become a scientist so now my path toward that goal is singular and clear,'" Rico-Beck said. "Rather, at each stage of your career there are opportunities and challenges, and the choices that you make along the way can bring you to really exciting and often unexpected results."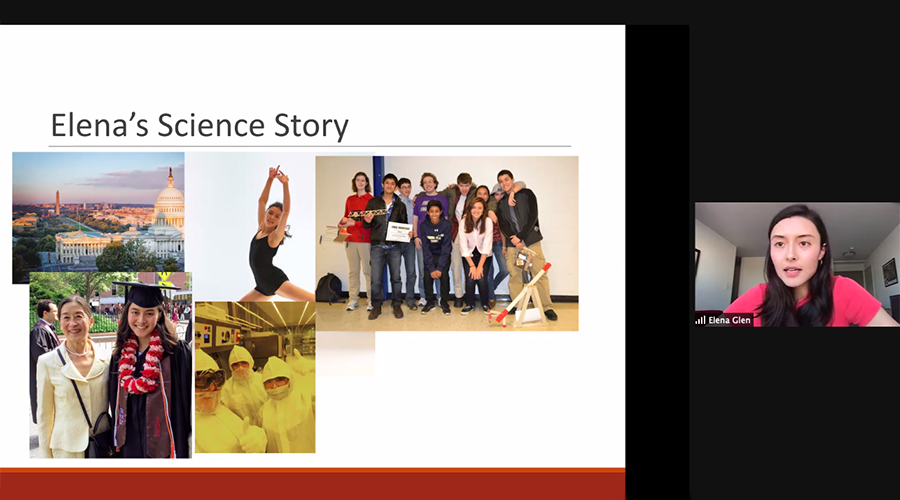 The panelists also emphasized the importance of continuing to choose to pursue what you love, Schmidt said. When one of the students said she "used to be good at math but now, not so much," the experts assured her she still can be. Each panelist shared how they found a new way of learning something when the prescribed method did not work. They also reinforced how important it is to ask for help and to not assume everyone else has it all together.

"Our panel helped the young women see the opportunities before them," Schmidt said. "We showed different women at different points in their career so that these high school students can see where they might find kinship. The girls were as inspiring as the panelists with their insightful questions and enthusiasm for STEM."
The future of STEM


Participating in outreach events like these helps students envision themselves at the University of Chicago and in the STEM field, Schmidt said.
"Because of these events, young women can see PME as a potential place for them, as somewhere where their love of STEM could take them and a place where they can learn from students and faculty who've made PME their choice," she said.

"I had never heard of that kind of research before and definitely want to learn more about it." - Student comment in post-event survey


These events also show how accessible and interesting science can be, Squires said.
"It's extremely important to try to communicate both with younger folk and also the general public to make sure that everybody realizes that science is really accessible," she said. "I think people think of universities as ivory towers, and they're not. And it's especially true for women or any group who's a minority in the sciences, where they might feel like it's not a natural place for them."
Hopefully, some of them will be intrigued, Squires said.
"It's nice to talk about your research and really explain it in a way that people—in this case young women—can get excited about," she said. "If they find it interesting, they'll feel like there's not as much of a barrier to making it their career."

---